ALWAYS HERE FOR OUR MEMBERS
Every individual member over the age of 12 must show their valid YMCA membership card to enter the YMCA facility. If a member has forgotten their card, they must show a valid photo I.D. to be manually checked-in.
Guests are considered to be anyone who is not listed on an active YMCA membership. Every guest must show photo I.D. and sign-in at the Welcome Center. Guests must be accompanied by a member, 18 years or older, while in the facility. All guests must have a signed liability waiver on file prior to entry. The guest must be accompanied by the member they are with the entire time they are in the facility. If the guest is under age 18, a parent or guardian must sign the liability waiver prior to entry. Guests watching youth programs or aquatic lessons in the facility may not enter unless they are accompanied by a member. Members must meet their guests at the Welcome Center and show their membership card to allow their guest access to the facility. Guests cannot check themselves in at the Welcome Center. For your safety and the safety of all members, no one will be allowed access without adhering to the above.
CHANGES & MEMBERSHIP HOLDS
Any membership changes including draft date, billing changes, termination, and member information changes must be done in writing at the Welcome Center. A membership change requires fifteen (15) days prior to the 1st of the month to take effect. Any changes that increase the monthly dues will require a pro-rated fee to be collected at the time of the change. Please note that the name you will see on your billing statement is "Southeast Ventura County YMCA" or "SEVYMCA."
PHOTOGRAPHIC & VIDEO RELEASE
In exchange for good and valuable consideration, the adequacy of which is hereby acknowledged, I hereby give the YMCA of Southeast Ventura County, its volunteers, employees, and any other person or entity acting with its permission the right to take, copyright, use, and publish and photographs or videos of me and/or my children for the purpose of any YMCA advertising, promotion, or other purpose consistent with the YMCA mission. I agree that any such photograph or video is the property of the YMCA of Southeast Ventura County, and I hereby waive all rights thereto. I further waive any right to inspect or approve any printed or electronic material what may be used in conjunction with photographs or video, or to approve the use to which the photographs or video may be applied.
The YMCA of Southeast Ventura County does not carry health or accident insurance on its members or participants. All expenses incurred in the treatment of illness, injuries, or accidents will be the responsibility of the participant and his or her parents or guardians.
Members and guests may use their choice of a family locker room, private changing space or locker room corresponding to their self-identified gender.
By participating in the YMCA Nationwide Membership Program, members agree to release the National Council of Young Men's Christian Associations of the United States of America, and its independent and autonomous member associations in the United States and Puerto Rico, from claims of negligence for bodily injury or death in connection with the use of YMCA facilities, and from any liability for other claims, including loss of property, to the fullest extent of the law.
CODE OF CONDUCT STATEMENT
The YMCA of Southeast Ventura County is committed to providing a safe and welcoming environment for all members and guests. To promote safety and comfort for all, individuals are asked to act appropriately at all times when in our facility or participating in our programs. 

We expect persons using the Y to act maturely, to behave responsibly, and to respect the rights and dignity of others. Our members' Code of Conduct outlines prohibited behaviors, but it is not intended to be an all-inclusive list of behaviors considered inappropriate in our facilities or programs.
Using or possessing alcohol or illegal drugs and/or chemicals on Y property, in Y vehicles, or Y-sponsored programs

Smoking on Y property -- the Y and its property is a smoke free environment

Carrying or concealing a firearm or weapon on Y property

Harassment or intimidation by words, gestures, body language, or any type of unwelcome behavior

Physical contact with another person in an angry, abusive, or threatening way

Verbally abusive behavior, including angry or vulgar language, swearing, name-calling, or shouting

Sexually explicit conversation or behavior, any sexual contact with another person

Inappropriate, immodest, or sexually revealing attire

Theft or behavior that results in the destruction or loss of property

Transferring membership cards

Loitering within or on Y property
IMPORTANT SAFETY INFORMATION
In addition, the Y reserves the right to deny access or membership to any person who has been accused or convicted of any crime involving sexual abuse, is or has been a registered sex offender, has ever been convicted of any offense relation to the use, sale, possession, or transportation of narcotics or habit forming and/or dangerous drugs, or is presently or habitually under the influence of dangerous drugs or chemicals, narcotics, or intoxication beverages.

Members and guests are encouraged to take responsibility for their personal comfort and safety by asking any person who threatens their comfort to refrain from such behavior. Anyone who feels uncomfortable in confronting a person directly should report the behavior to a staff person on duty. In order to be able to carry out these policies, we ask that members and guests identify themselves when asked.

The Y will investigate reported incidents. Suspension or termination of Y membership privileges may result from a determination by the Y if in its discretion a violation of the Y member's Code of Conduct has occurred.
 
NOTICE OF SEX OFFENDER SCREENING
The YMCA conducts regular sex offender screenings on all members, participants, and guests. If a sex offender match occurs, the YMCA reserves the right to cancel membership, end program participation, and remove visitation access. 
 
CONEJO VALLEY YMCA
CURRENTLY CLOSED
4031 N. Moorpark Road
Thousand Oaks, CA 91360
info@sevymca.org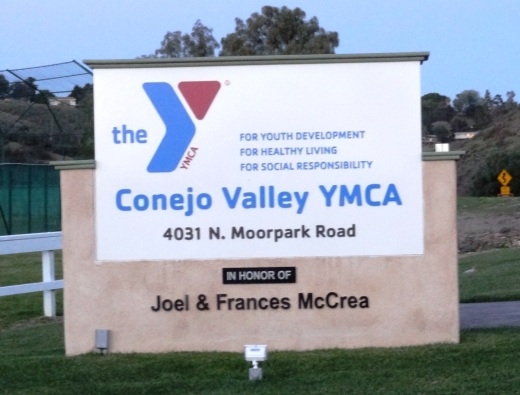 YARROW FAMILY YMCA
31105 Thousand Oaks Blvd.
Westlake Village, CA 91362
818.707.9622
info@sevymca.org