FRIDAY Y LIGHTS
FLAG FOOTBALL LEAGUE
REGISTRATION CLOSED

FRIDAY Y LIGHTS
YMCA FLAG FOOTBALL LEAGUE
 
FRIDAY NIGHTS
JANUARY 21 - FEBRUARY 11, 2022
BRING YOUR OWN TEAM!
Games played at Westlake Community Park next to the Yarrow Family YMCA
31107 Thousand Oaks Blvd. | Westlake Village, CA 91362
GAME SCHEDULES & FIELD MAP
VIEW/DOWNLOAD FLAG FOOTBALL HANDBOOK
Program Participants and Guests:
Are you a current or past Program Participant? If so use your phone number to access your online account. If you cannot remember your password or haven't set one up yet, please click forgot password to get an access code emailed or text to you.
Not a Y Member? Non-Members pay no membership or joining fees and have access to most Y programs as Program Participants. To register you will need to set up a free non-membership account and you can begin your easy online registration:
STEP 1: Select the program you wish to register for.
STEP 2: You will be taken to our online portal for registration.
If you are already a MEMBER please sign in by clicking Log-In in the top righthand corner using the phone number associated with your membership.
If you are registering as a NON-MEMBER, click the link in the top right corner that says, "SIGN UP"
STEP 3: ON THE NEXT SCREEN, SELECT the membership option that you would like to register for.
STEP 4: Non-Member registrant only: CLICK TO SELECT THE NON-MEMBER MEMBERSHIP TYPE.
STEP 5: COMPLETE THE INFORMATION FORM WITH YOUR CONTACT INFORMATION. At the bottom of the screen, you will be able to save your non-member record with the option of adding any additional adults or children for whom you will be registering. Once you have finished adding additional individuals to your account, click next.
STEP 6: ENTER AN EMAIL AND SELECT A PASSWORD TO COMPLETE CREATION OF YOUR Y ONLINE ACCOUNT. You can now begin to search and register for programs!
QUESTIONS? Please call our branch location numbers listed below and they should be able to assist you! The branches are open Monday - Friday, 6:00AM - 7:00PM
To View Entire Parent Handbook, CLICK HERE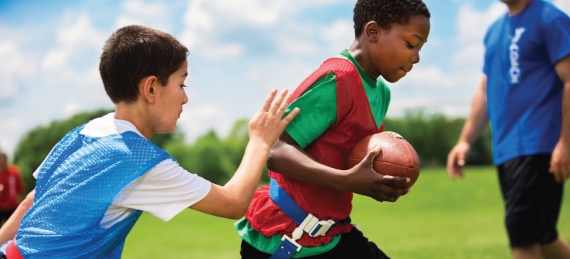 EARLY BIRD REGISTRATION: October 15 - October 31, 2021
Early Bird Cost: $185 per player
Cost as of November 1: $195 per player

DIVISIONS:
Kindergarten - 1st Grade
2nd - 3rd Grade
4th - 5th Grade
6th - 8th Grade
*Teams must bring their own coaches. Please contact us if you are able to bring a team but are still in need of a coach.
*If you sign up without a team, the YMCA will assign you to one.

OTHER IMPORTANT INFORMATION:
Cost includes jersey and shorts

Teams play 2 games every Friday night

The Playoffs will be played on Friday, February 11 at AHS Stadium

The games are 5v5

Up to 8 players are allowed on each team

The YMCA will provide flags that must be returned at the end of each night

The YMCA will provide referees

All participants and spectators are asked to follow our rules and safety protocols.