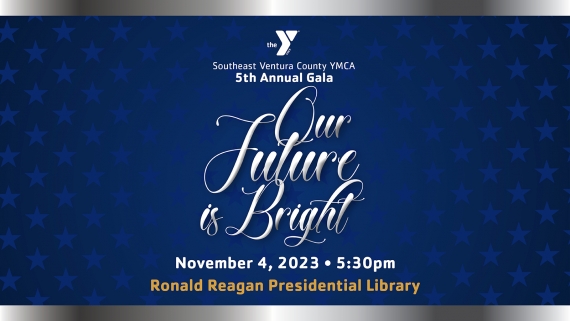 5TH ANNUAL GALA
SATURDAY, NOVEMBER 4, 2023
RONALD REAGAN PRESIDENTIAL LIBRARY
5:30PM
Every year, the Southeast Ventura County YMCA hosts their Gala to support Find My Genius, Safety Around Water, Youth & Government and scholarship programs. Thank you for supporting our community! We looking forward to seeing in November!



BECOME A SPONSOR:
To learn more about becoming sponsor, please contact Dani Hutchison at dhutchison@sevymca.org.
SOUTHEAST VENTURA COUNTY YMCA MISSION:
The Southeast Ventura County YMCA is a nonprofit organization dedicated to building positive relationships, impacting lives and strengthening the community through youth development, healthy living programs and social responsibility. It serves the Conejo Valley, Simi Valley, Westlake Village, Oak Park, Agoura Hills and Moorpark through its three branches.
HOW WE DO IT:
There is no other nonprofit quite like the Y. That's because in communities across Ventura and Los Angeles Counties, we have the presence and partnerships to both promise and deliver lasting personal and social change.
The Y is community centered.

The Y brings people together. We connect people of all ages and backgrounds to bridge the gaps in community needs.

The Y nurtures potential. We believe that everyone should have the opportunity to learn, grow and thrive.

The Y has local presence and national reach. We mobilize local communities to affect lasting, meaningful change.

Every dollar raised provides vital funding to individuals and families in need.  To donate, please visit www.sevymca.org/mission.
FIND MY GENIUS PROGRAM:
To guarantee all children in our community realize their full potential, the Southeast Ventura County YMCA is committed to reducing summer learning loss through a free five-week summer program for low- and moderate income students who are not reading at grade level. Our program provides academic instruction, healthy meals, physical exercise and enrichment opportunities for these students. When every student returns from summer break ready to start the school year, all of our children achieve more.
Third-grade reading skills predict high school graduation. Students who read proficiently by the third grade are four times more likely to graduate than those who do not.
SAFETY AROUND WATER:
The Y is committed to making drowning prevention a priority for all youth in our community through Safety Around Water; ensuring all children can safely enjoy the health and recreational benefits of swimming.
YOUTH GOVERNMENT:
Youth & Government teaches high school youth the values of democracy, providing them with hands-on opportunities to experience government and become civically-engaged, responsible adults.
INCLUSIVE PROGRAMMING:
We are proud to partner with our local regional center to launch an inclusive program for children with intellectual and developmental disabilities. This program will include proper training for our staff to best support our families as well as activities, toys and classes that create a welcoming environment for all.
SCHOLARSHIPS:
We count on the generosity of our community to help us continue our vital work. The money raised provides financial assistance to families in all our communities, ensuring everyone has access to our programs.